This week we have 638 new sims bringing total regions to 25878 (20889 estates & 4989 Mainland regions).
The new sims include 10 new help islands as well as large 35 region H shaped continent (close to mainland – just nw of the SL5B area ) made up of regions named Heroes 1 to Heroes 35 – Is this a Heroes TV tie in with Sl similar to the CSI one? They are currently inaccessible and I'm treating them as private estate until I can confirm otherwise.

Here is the Map image of the sims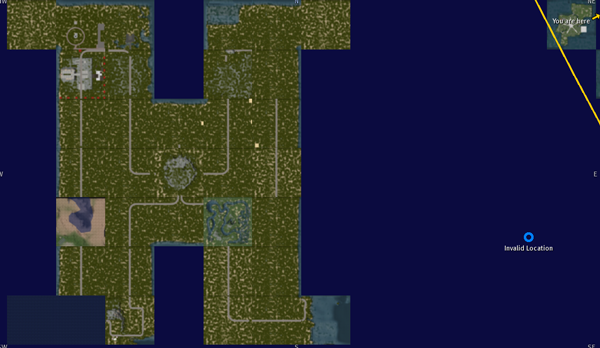 Here is the full list of new regions :

A Private Passion
Abaco Islands
Accacio Isle
achtland
Achtland Isles
Adventure Isle
Agadan Reach
Aiko
Akrasia
Alcatraz Island
Alegria Designs
Alicia
AlienTech
Allambee
Alphazero
Amarige Dream Island
Ambiance Isle II
Amelia Isle
Amor Hermoso
Amriel Island
Ananda
Andros Islands
Anegada
Angel of Heaven
Angels Rest
Annais Isle
Annamaria Grande
Antiquity Charon Abyss
Apfelland Karibik
Apfelland Mondschein
Apfelland Resort
Apfelland Sehnsucht
Apocalips Japan
Apocalips Kansai
Apocalyptika
Aquadune
Ardelis Isle
Asar
Atlantida
Aurora Insula
Babii Builds
Bar H Ranch
Barry
Bear Mountains
Belem PA
Beor
BERLIN Brandenburger Tor
BERLIN Hackescher Markt
BERLIN Prenzlauer Berg
BERLIN Siegessaeule
Berna Beach
Best Land
Black Pearl Beach
Black Sand Beach
Black Thorn Gardens
Blaue Lagune
Bliss Home Store
Bliss Plants
Bluewater Outback
Boracay Islands
Botha Arquitects
bouma
Bound
Bourbon 2
Breakers III
Breakers IV
Broome Community College
Brugge Art
Buena Esperanza
Bunny Love
Burning Life (Babel)
Burning Life (BIOS)
Burning Life (Black Sun)
Burning Life (Chaos)
Burning Life (Code)
Burning Life (Data)
Burning Life (Deep Hole)
Burning Life (Hualapai)
Burning Life (Hydro)
Burning Life (Hyper)
Burning Life (Meta)
Burning Life (Micro)
Burning Life (Network)
Burning Life (Optic)
Burning Life (Port Zero)
Burning Life (Quad)
Burning Life (Radar)
Burning Life (Reality)
Burning Life (Reaper)
Burning Life (Roadkill)
Burning Life (Tigris)
Burning Life (Zone)
Butterfly Cove
Camorra
Canyon Acres
Carey
Carima Magic
Carrabelle
Castle Cay
Castle Rock
Catagonia
Caves of Wasteland
CENNET
Cerner WHQ
Cest La Folie
Charity Isle
Cheerful land
Christiania
Cloud Nine
Confetti Bay
Contest mall
Corail world
Coralline Island
Cosmic Engineers
Cozy Baby
CRAZY SERIAL ISLE
Cristal Springs
Crooks Island
CrossFade Naverland
CrossFade NK
Crucible
Cruz Control
Crystal Bay II
Curacao Island
DejaVoo
Demonic Abyss
Denmark Egholm
Denmark Hylleholm
Devilish Angels
different world 1
different world 2
Discovery Point
DIXON Moby
DIXON Sweet
DJ WORLD
Donna
Dragon Claw Island
Dream Jumbo Beach
E4E
EAWebz II
Eccentricity Cove
Elegance Shores
Elios
Emerald Falls
Escort Land
Essel sands
Etcetera1
Etcetera2
Eternity Sands
Ethaeria
Everwood Forest
Faial
FairChang Atlantis
Faith Isle
Falling Waters
Fanastacia
Far Outlands
Fastnet
Faux
Felina Island
Field Of Dreams
Firebird Rising
Fireworks Sea
Fjonas Rest
Forbidden Dreams
Fort Lauderdale
Fractopia
FRANCESC
Friedlander II
Fuerteventura Beach
Fuerteventura House
Gabriel
Galland Homes II
Gary
Gemeaux
Glamour land
Glen Alpine
Global Future Technology
GOLD Queen
Golden Hills
Grace Sea
Grace Sea South
GreenBurg
Guggi
gull
Hadria Isle
hakata bay
hakkeijima
Halve Maen
Hamunaptra
Harmison Industries
Harmony Shores
Harris Quays
Harry
HASP IPED
Hawaii Kaula
Hawaii Kure Atoll
Hawaii Lisianski Island
Hawaii Maro Reef
Hawaii Pearl Atoll
Heaven Islands
Heaven on Sea
Help Island 201
Help Island 202
Help Island 203
Help Island 204
Help Island 205
Help Island 206
Help Island 207
Help Island 208
Help Island 209
Help Island 210
Here
Heroes 1
Heroes 10
Heroes 11
Heroes 12
Heroes 13
Heroes 14
Heroes 15
Heroes 16
Heroes 17
Heroes 18
Heroes 19
Heroes 2
Heroes 20
Heroes 21
Heroes 22
Heroes 23
Heroes 24
Heroes 25
Heroes 26
Heroes 27
Heroes 28
Heroes 29
Heroes 3
Heroes 30
Heroes 31
Heroes 32
Heroes 33
Heroes 34
Heroes 35
Heroes 4
Heroes 5
Heroes 6
Heroes 7
Heroes 8
Heroes 9
HIGASHI GINZA PARK
Highland XVII
Highlands XIV
Highlands XV
Highlands XVI
Highlands XVIII
Highlands XX
Highlands XXII
Highlands XXIII
Hispano Power
HKPolyU Resort
Homes Of Bliss
Honey dAlliez
Hope Isle
Hukilau Breeze
Hyannisport
Hydro Infinity
Immortal City
INNODESIGN
Island Park
Island Ultima
Isle de Funk
Isle of Desires
Isle of Killarney
Isle of O'Flynn
Isles of Ruin
Jeremis
Jess
Jonetsu Ocean
Joy
Junkiville
Junkiville2
Junkiville3
JUSTice Midland
KA Lagoon
Kaballa Island
Kaldora Island
Kalypso
Kami no Shima
Karinan Beach
Karinan Cays
Kashyyyk 01
Kauai Dreams
kauaii
Kerry Isle
Khai
Kiwi Land
KK Resort
Kohinoor
KohSun
KohZen
KP Dream Island
Kristina
Krystal
Kuta
KYOKONAKA
Kypris
La Resistance
Laguna Blu
Lahaina
Land of Shadows
Las Islas
Las Rocas
Las Vegas Games
Laurelin
Leon Sink
Lil Rock Planet
Lingerie
Little China
ljssel
Loreley
Love Land
LoveDream
LTU
Luthais
Lyris Isle
Macaw
Madison County
Magic Minds
Magus
Maple Park
Mary
Max Sunbeach
Max Sunrise
McDonnagh Islands 7
Melinjo
Menges Islands
Merc Desert
Mermaid Bay
Mhotep
Middle Village Park
Midstate College eLearning
Midway
Milky Land
Milkyway Island
Millie
Miracle Worlds
Mishtar
Miyako
Monavie
Monongahela
Moon Light
Mooncast Isle
Moonfire
More Than Light
MOUSHOU ISLAND
Murotima dunkle Seite
Murotima Koenigreich
My Home
Mystic Dreams
Mystic Land
Mystic Shores
Mystic South
Mysticfire
Mystime Isle
Myth Zone
Naked Paw
Naturalist Resort 1
Naturalist Resort 2
Naturist Resort3
Naturist Resort4
Naughty Angels
Nectaris
Needles Drum
Needles Rag
Needles Spine
neptun
Nerdmania
NeXus Estates East
NeXus Estates North
NeXus Estates South
Niflheim
NIMO
Nippaku100
Nova Beach
nugget
Nycthemeron
Ocarina Isle
Occulto Caerulus
Occulto Vlodovic
Ocean View 2
Odin Rest
oralune
Orangelo
Orchidee
Otero
Overwhelmed
Pacifico Central 11
Pacifico Central 13
Pacifico Central 14
Pacifico Norte 5
Panarea
Panther Bay
Panther Hills
Panthera Island
Paradeisos
Paradiso Perduto
Pasademon Point
Passoa Island
Peace Island
Perle Island
Phinntasies
PhiPhi Island
Phoenix garden
Pickle Patch
Pickleflower
PickleStorm
PIRATES BAY
Plants Of Bliss
Pleasure Isle
Poipu
Pomegranate
POPLAR
Port of Lara
Port Spinoza
Portugal Center 3
Portugal Center 4
Portugal Center 5
Prankster Northeast
Princeville
Prize Escape South
Prize Maritimes
Prize Retreat
Profound Dreams
Propus
Provocateur I
Provocateur II
Provocateur III
pteron
Punk Rock Paradise
Pure Princess
Q Designs
Quadrapop Tree Isle
Queens Pond
r34l1ty
Rahz Store
Ramses
Ravage
Ravello Bay
Ravencatt
Ravensea
RD RaceWay
Renewal Point
Resurection
Rezzable Imagine
Rivendell DragonKEEP
RiverLand
Riverstick Isle
RoBeck Isle
Rockin Diva
Rogue Sphagnum
Rosen
Royal Dragons Palace
Royal Volcano Isle
Rumba
Runic
Sabaoth
safe harbour northsea
Sahara desert
sakura love
SaliMar
San Salvados
Sanctuary Retreat
Sands Island
Sans Bikini Top
Santa Luzia
Santo Antao
Sao Nicolau
Sao Vicente
SAVAGE ISLAND 2
SAVAGE ISLAND 3
Sea Crest Isle
Sea of Innocence
Seashore Cove
Seaview Cove
Senkai
Serena Little Exuma
Serena Little Inagua
Serena Pointe Noire
Serena South Bright
Serenidad
Serenity Valley
Serenus University
Shadow Forest
Shadow Vale
Shady Cove
Shamballa
Shambhala
Siddeburen West
Siedah
Silent Falls
Silva Arcana
Silver Cove
Simply Britnee
SLIntro
Smaller Island
Snow Friends
Solitas
Sommits
Sophia Yates Productions
Sparkling Isle
Spinoza South
Spirit Island
Star Legend Island
Star Ocean Island
Star Tropical Island
StarDust Island
Starfire
Stargate
Station Alpha
Steel Tarn Crossing
Stormy Cove
summerhill
SunKissed
SUNLAND2
sunset strip
Sunset Village II
Sunshine Cove
Sweet Home
Sweetest Paradise
Symi island
Synical
Synpatico
Tainted Cook Island
Tainted Hearth
Tamura
Tangelo
Tayen
Teletus Thassa
Temporal Rifts Empire
Temptation Cove
Temptation Isle
Teranath
Textile Futures
The BoneYard Island
The Dawn
The End
The Eternal
The Serene Sea
The Thassa
The Unknown
Thema
Thirty
ThirtyFive
ThirtyFour
ThirtyOne
ThirtyThree
ThirtyTwo
Tigris Isle
Toad Island
Topazia
TPZON PLACE
Tumble Weed
Turiya I
Turiya III
Twenty
TwentyFive
TwentyFour
TwentyNine
TwentyOne
TwentySeven
TwentySix
TwentyThirteen
TwentyThree
TwentyTwo
Twilight Cove
Twilight Gallery
TWO ROSES
Ukigumo
United Space Force
Universal Police Dept
Unknown Creations
UnrClass
Uptown Shelter
Valland
Varislees Paisean
Venezia Island
Venkabeau Isle
Verlorenes Paradise
Via Paris
Vickis Retreat
Ville
Vincel wood
Viracocha
Virtual dreams
Vixen Cove
Voomillan
Vosk Woods
Wakikki Beach
Walhall
Wandering Spirits
Wayward Dreams
WeatherStone Keys
West Cantebury Bay
Whispers Isle
White Clouds
WickedlySinful
Wild Tizzy
Wildbleu
Wildwood Grove
WIND
Winona
Wisdom Isle
World of Water
Wulf Creek
Yaoi Valley
Yebizah
Yedo Crest
Yedo Garden
Yedo Hoshi
Yedo Rush
Yedo Surge
Yemanja
Yimas
Yumix Natural Island
Zaitoon and Crisha2000
Zandkasteel Baai
Zaxius Tor
Zayka
Zephyra
ZERO Resort
Zibistan
Ziraleet
ZoHa Islands EE
ZoHa Islands NNE
ZoHa Islands SSEE
Zora Island
ZweiteWelt Action
ZweiteWelt Beauty
ZweiteWelt Home
A lot of this weeks regions going off line are the Burning Life Regions being given their new names in preparation for the next Burning Life.
In total 145 regions are no longer with us , including the 6 Halfway There Linden regions and
the final 4 CSI orientation islands. Also departed are several Rezzable Sims

2Lisle2
ADSL
akasaka
Akrasia Niko
Albatros Island
AlienWare
AlienWare North
AlienWare South
Althea
Aoba
Aurora Isle
BEAMS
BenandJerrys Orientation
Black Dragon Isle
Bonaire Enterprise 01
Bounty Lagoon
Burning Life (Arthur)
Burning Life (beni)
Burning Life (Bones)
Burning Life (chats)
Burning Life (clancy)
Burning Life (Diablo)
Burning Life (Earling)
Burning Life (friga)
Burning Life (jeraku)
Burning Life (krigo)
Burning Life (leon)
Burning Life (modhuine)
Burning Life (mumon)
Burning Life (nani)
Burning Life (odi)
Burning Life (raudf)
Burning Life (rocco)
Burning Life (saon)
Burning Life (skylar)
Burning Life (tianci)
Burning Life (urlaf)
Burning Life (zara)
Calipso Bay
Camorra Niko
Cars2
CCU Island 2
Chelonia
CinemaRay Oceanus
City Life Beach
City Life Isle
CRANBERRY BAY
Cretan
CrossFade Live
CSINY North 1
CSINY Orientation East1
CSINY Orientation West1
CSINY South 1
Darklands Rezzable
Dead Zone
Delta Swarm
Devvon
Eder Gira
Egyptian Empire
Egyptian Empire l
Egyptian Empire ll
Enlightenment
Erotica UK
Escort Island
Eternity Land
Falworth Island
Falworth Marina
forbidden island
Gardens Of Rome
Gioia
Glenwood
Gliding
Golden Bay
GOLDEN ESTATE
HalfwayThere 1
HalfwayThere 2
HalfwayThere 3
HalfwayThere 4
HalfwayThere 5
HalfwayThere 6
HimandIandUs
HimandIandus2
Honolulu City
Hyannasport
Island of Kerry
Laran
Level 3 A
Level 3 B
Level 3 Dev
March
McVille3
MeckPomm
Merlin Ducatillon II
Modus Acqua
Modus la Casa
Modus Oeste
Modus Vivendi
MOGURI
Montmartre
MOUSHOU s ISLAND
Myth
NaNe Estate 5
Nickle Bay
Noviminae
Pechter
Petland
PhiPhi Resort Islands
Pixel
Polyusotel
Porn
Revolution Island
Rezzable 06
Rezzable Collectors Gallery
Rezzable Liberty
Rezzable Welcome
RINCON
Ruby Dust
SANDS Island 2
Scagnar
Sephera 3
Serena Carpe Diem
Silver Surfers
South Pacific II
Sunset Oasis
Surfline Aloha Rezzable
SynniStarDazia
Testlife
The Depths Rezzable
The Village
Torvaldsland
Trenton II
Tropica Bay
TV Seculo21
TwentyEight
Twisted Realms
USF Sarasota Manatee
Uthar Fair
uvvy
Vanity
VASARA
view
Yaoi Kingdom
Yung Islands
Ziraleet Niko
Zoq
72 of these are renames

March ==> Fixedbit Island
TwentyEight ==> Aray
Polyusotel ==> HKPolyU Campus
view ==> Hydra Island
Delta Swarm ==> Ethaeria
Enlightenment ==> Nerdmania
Cretan ==> Toad Island
TV Seculo21 ==> Via Paris
SynniStarDazia ==> Aurora Insula
akasaka ==> bouma
uvvy ==> Cosmic Engineers
Ruby Dust ==> Dragon Claw Island
SANDS Island 2 ==> Kaballa Island
Honolulu City ==> Lahaina
Myth ==> Myth Zone
Silver Surfers ==> More Than Light
Eder Gira ==> Mystime Isle
forbidden island ==> POPLAR
Vanity ==> Stargate
Gardens Of Rome ==> Temporal Rifts Empire
Yaoi Kingdom ==> Yaoi Valley
ADSL ==> Babii Builds
McVille3 ==> Elegance Shores
USF Sarasota Manatee ==> HASP IPED
Hyannasport ==> Hyannisport
Chelonia ==> Kashyyyk 01
MOUSHOU s ISLAND ==> MOUSHOU ISLAND
Modus Vivendi ==> Princeville
Modus Acqua ==> Poipu
Modus Oeste ==> Queens Pond
NaNe Estate 5 ==> Silver Cove
City Life Isle ==> Wildwood Grove
City Life Beach ==> Wildbleu
AlienWare South ==> Yedo Garden
AlienWare North ==> Yedo Surge
AlienWare ==> Yedo Crest
Escort Island ==> Escort Land
Bonaire Enterprise 01 ==> Panarea
Rezzable Welcome ==> Rezzable Imagine
Twisted Realms ==> Wandering Spirits
Merlin Ducatillon II ==> Zaitoon and Crisha2000
Eternity Land ==> Bourbon 2
Burning Life (jeraku) ==> Burning Life (Meta)
Burning Life (chats) ==> Burning Life (Optic)
Burning Life (skylar) ==> Burning Life (Zone)
Burning Life (leon) ==> Burning Life (Tigris)
Burning Life (Bones) ==> Burning Life (Code)
Burning Life (modhuine) ==> Burning Life (Hualapai)
Burning Life (raudf) ==> Burning Life (Quad)
Burning Life (tianci) ==> Burning Life (Data)
Burning Life (nani) ==> Burning Life (Hyper)
Burning Life (friga) ==> Burning Life (Radar)
Burning Life (Diablo) ==> Burning Life (Reaper)
Burning Life (rocco) ==> Burning Life (Deep Hole)
Burning Life (mumon) ==> Burning Life (Chaos)
Burning Life (krigo) ==> Burning Life (Micro)
Burning Life (saon) ==> Burning Life (BIOS)
Burning Life (odi) ==> Burning Life (Reality)
Burning Life (Arthur) ==> Burning Life (Network)
Burning Life (zara) ==> Burning Life (Port Zero)
Burning Life (beni) ==> Burning Life (Babel)
Burning Life (clancy) ==> Burning Life (Roadkill)
Burning Life (urlaf) ==> Burning Life (Black Sun)
Burning Life (Earling) ==> Burning Life (Hydro)
Albatros Island ==> Carrabelle
The Village ==> Faux
Porn ==> Wulf Creek
Akrasia Niko ==> Akrasia
CinemaRay Oceanus ==> CrossFade Naverland
Camorra Niko ==> Camorra
Sunset Oasis ==> Sunshine Cove
Ziraleet Niko ==> Ziraleet
UPDATE: The Heroes Regions turned out to be part of a current Relay for Life campaign